15th of July Press Statement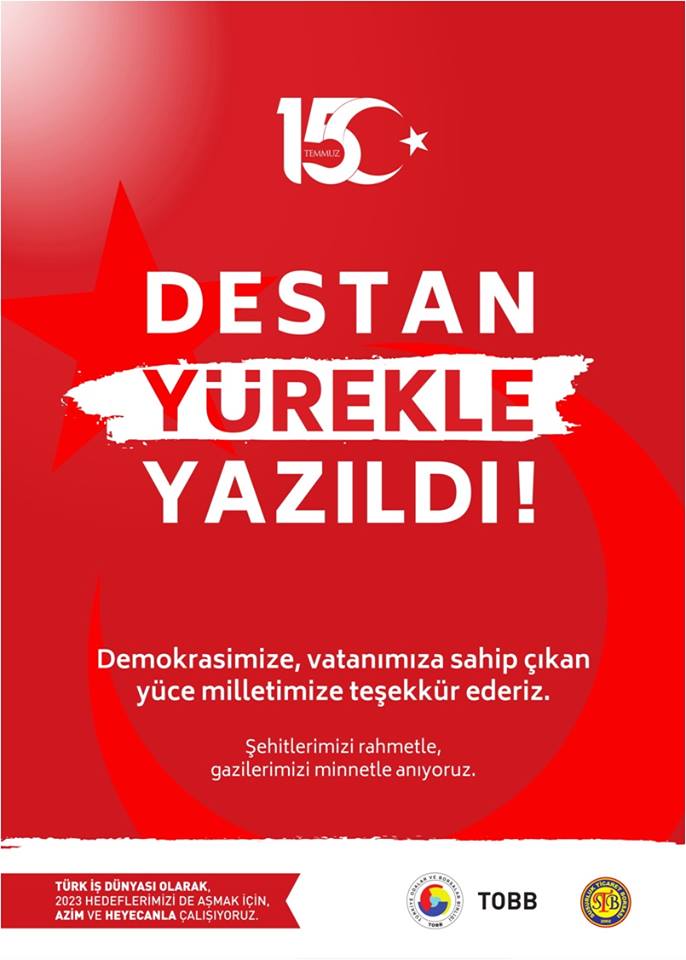 Our Chairman of the Board of Directors Sefer Göçer's 15th of July Press Statement:
On the 3rd anniversary of 15th of July Traitorous Coup Attempt; we have not forgotten, we will not have it forgotten
"Turkey has clearly demonstrated by repulsing a treacherous and cowardly attack against democracy and the rule of law on the night of July 15th, 2016, that a power not derived from the ballot box, an administration which does not draw its authority from the nation we will never be accepted as legitimate. We will submit to nothing but democracy and the will of the nation.
July 15th is a stress test of Turkey's politics, as well as its economy and the nation has passed this test successfully. Our democracy and institutions proved too mature to surrender to brute force. Illegally organized FETÖ organization within the state was unearthed. Thanks to the national resistance against the putschists; putting a damper on future attempts.
With this treacherous coup attempt originating from FETÖ, TOBB and Chamber-Exchange community showed our reaction right at the beginning. We became the first professional organization to take the first initiative against the coup attempt. As soon as the coup manifesto was read, at 00:22, we declared that do not recognize any will except the will of the nation and democracy. This is the day to preserve democracy.
Together with our 365 Chambers and Commodity Exchanges, we showed our reaction against the coup simultaneously in 81 provinces and 160 districts. We declared that democracy is our indispensable, the national will power and our brotherhood is our future. After that, our Chambers and Commodity Exchanges in 81 provinces actively participated in the Democracy Watches from the first day. In addition, TOBB, Chambers and Commodity Exchanges contributed the most to the July 15th Martyrs Solidarity Campaign.
TOBB and the Chamber-Exchange Community stands by democracy, nation and state.
We will continue to defend democracy as the TOBB and the Chamber-Exchange community, which adopted the principle that 'Sovereignty belongs unconditionally to the nation,' of Mustafa Kemal Atatürk. We will be at the disposal of our nation. We will stand against those who oppose our country's unity, brotherhood and democracy. Because we exist so long as we have our state and country. If there is democracy, we are all there.
100 years ago, our heroic ancestors declared that, 'Independence of the nation will be achieved through the nation's determination and will,' lighting the first spark of the War of Independence. On the night of July 15th, 2016, the Turkish Nation acted with the same principle and prevented a major disaster.
As the Turkish business world, we continue to work with the same spirit and belief. We will work together to make sure that Turkey takes its place among the world's largest economies and to become a leading country.
We pray for the grace of Allah upon our heroic martyrs of the national resistance who lost their lives in this epic fight for democracy and extend our condolences to their precious families; we thank our veterans with the utmost gratitude."